I remember the day I first downloaded the Instagram App in 2010, I was excited about using the filters on the photo I just took of a frangipani and then another of me with the frangipani. It was simple- select your filter and away you go. At this point, I had no idea people could see my photos or that 'following' someone was an option.
Since then, Instagram has become a podium for businesses, photographers, 'models' , travellers and bloggers.  People are genuinely earning an income from the photos they post- ummm sign me up?
Somewhere along the line, I found myself falling down the insta-fame rabbit hole. My goodness it was appealing. Watching these picture perfect girls with their picture perfect boyfriends, living their picture perfect lives. Hundreds of thousands of followers and zero need to work. Who wouldn't want to be paid for taking good pictures of their lives.
It sounds amazing and looks amazing but I'm calling bullshit on you all * note this is not directed at all instagrammers- you know who you are.
There was this one particular travel blogger- she even made it into my list of top 5 you should know, she's young and she's beautiful and honestly, I've looked up to her the past 12 months. She is always gallivanting around the globe and her audience is growing daily.
She was a bit of an inspiration, UNTIL I realised it was fake. Maybe not all of it but a shit tone was. Yes, per pictures are beautiful. Yes, she's always travelling but what made me change my entire perspective is when I was searching for fresh inspiration so decided to check out her list of "following".
My assumption was It would be full of travellers alike. To my surprise the first few were complete randoms with a thousand followers but one photo of a cat. It got worse from there. Countless people that were following her and being followed back were undeniably fake.
Okay- are we that desperate in the numbers game that we have to spend our time following fake accounts so that we look like our posed photos are influencing? Maybe that's not you- that's okay- I'm sill calling BS on the entire Instagram ladder to fame.
I understand that it's purely business to many people- that was the only reason I got so sucked in. BUT as a result, there are 13 year old girls wearing Gstrings JUST to get followers. I know this because my sister is 13 and i follow her friends. Regardless of the fact that their parents should be monitoring their social media, these girls are so influenced by the instagram models that they now believe it's perfectly plausible to take off your clothes to gain a following. Jesus, at 13 I was playing sims and trying to beat my own score at snake (god bless the Nokia)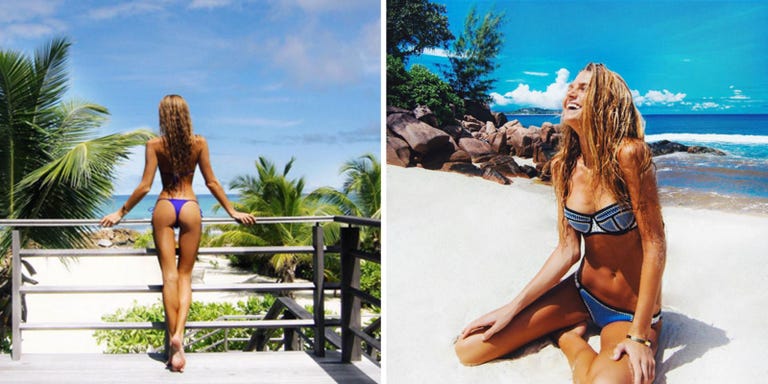 Even to get where I am, with a mere 1300 followers, I had to post on the regular, use hashtags AND like loads of other accounts- just to be noticed. I found myself scrolling through 100s of travel pages, liking photos and waiting for growth. Why? Because "how to grow your following" blog post told me so. In fact, every blog post related to Instagram says the same thing.
Feeling entirely frustrated by it all, I went through and deleted all the accounts that I didnt't know and blocked a great deal of people. It was not surprise that nearly 100 people unfollowed me within a day #followfordollow #unfollowforunfollow #springcleaning.
The point of my rant? It has challenged me to  switch off my phone and start living. Our life is exciting; we don't need an orchestrated photo to prove that.  I genuinely love photography so it's very likely we will still have our canons hanging from our necks in weeks to come but I'm throwing my hands up and saying noooooooo more BS! Sayōnara, Bullshit. If you're following me on Instagram, you're going to see a whole lot more crazy and a great deal less "pretend your not looking" photos. I am totally weird and you would never known that by seeing 99 photos of my back.
In saying this, please note this isn't a "I'm quitting social media" plea. Even before all the nonsense, I have been blogging. In fact, I have had a blog since I was 15- on many different platforms. I've always been an over sharer and I've always tried to be transparent, sometimes my silence is more truthful but most of the time, I write it as it is. Even if I basically failed English and STILL don't know the correct positioning for a comma, I write because I like too.
Until next time. #rantover
What do you think about instragram these days? I'm so open to a rebuttal